How To Buy Crypto NZ- Beginner's Guide 2023
Are you feeling overwhelmed by the crypto space? Don't worry if you're new to it. Investing in cryptocurrency can seem daunting and complicated at first, but understanding how exchanges work and what you're investing in takes a bit of research and work.
To help, this guide walks you through how to buy crypto in NZ by reviewing a few top exchanges and discussing how to buy Crypto with low trading fees.
At A Glance How To Buy Crypto NZ 2023
Listed below is a step-by-step walkthrough of our top-rated broker eToro, although you can use any platform of your choice.
Step 1: Open a trading account
Start by visiting eToro.com and clicking on the 'Start investing' button. It is located in the middle of the page. A few details will have to be entered after that.
Among the information are your full name, home address, date of birth, New Zealand tax number, and contact information. A strong password is also required.
Step 2: Verify your account
Every trader registering for an account on eToro – and any other regulated cryptocurrency exchange for that matter – must provide identification. In just a few minutes, you will upload a photocopy of your passport or driver's license as well as a bank statement or utility bill that was recently issued. eToro should process the documents quickly.
Step 3: Fund your account
Investing in eToro requires you to deposit at least $200. Debit cards, credit cards, Paypal, Skrill, Neteller, and NZ tank transfers are all accepted as payment methods.
Step 4: Buy Crypto
It's now time to choose which Crypto to purchase and how much. eToro requires only $10 as a minimum investment. You can invest any amount above this amount. You can buy Crypto at eToro by clicking on 'Open Trade.'
Places To Buy Crypto in NZ- Reviewed
Trading in cryptocurrencies has become more common in recent years.  Most of the best crypto exchanges in New Zealand will let users either buy Crypto outright or invest in Crypto passively.
Keeping that in mind, here are a few leading platforms you can use to buy Crypto in New Zealand safely and effectively:
1. eToro- Popular trading platform with great choice of cryptocurrencies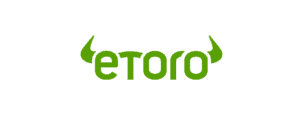 eToro is a popular trading platform that offers a huge variety of assets including stocks, ETFs and cryptocurrencies. The global platform has 20 million registered users and boasts over 1700 listed companies across different industries.
eToro currently lists 15 different cryptocurrencies to trade in New Zealand. These include Bitcoin (BTC), Ethereum (ETH) and Ripple (XRP). Futhermore, eToro offers a free demo account which can be used to familiarise yourself with the platform and different trading strategies before putting any capital at risk.
One of the reasons that eToro is so popular amongst traders is that it chargers a very low fee for transactions. When trading with eToro, you will pay a fixed spread that varies depending on the coin that you chose to trade. This spread is adjusted automatically to cover both sides of each trade. For example, the platform charges 0.75% spread for trading Bitcoin.
For trading on the go, eToro offers a mobile app. This way, you can monitor your crypto portfolio and make trades from anywhere. Both the app and the desktop platform also feature a range of tools that can be used to perform research and analysis.
Pros:
Trade 15 top cryptocurrencies
Supports crypto-NZD currency pairs
Low-cost, fixed roundtrip spreads
No monthly account fees
Technical charts with 100+ built-in studies
Social trading network
User-friendly mobile trading app
Wide variety of payment methods
Cons:
Doesn't offer depth-of-market information
200$ minimum deposit
Small ithdrawal and inactivity fees
Your capital is at risk. 
3. Plus500 – Trade Crypto CFDs with Tight Spreads
Second, you might want to consider Plus500. Buying and selling shares is not possible on the platform, as it specializes in CFDs. CFDs are used for trading the instrument instead of owning the underlying asset.
The advantage of this is the ability to trade stock CFDs using leverage. The leverage limits offered by Plus500 are 1:5. Your account will reflect any outstanding buy positions if you receive dividends. There will be a negative adjustment if you have a sell position.
Besides accepting debit/credit cards and bank accounts, Plus500 also accepts Paypal payments. Furthermore, Plus500's parent company is listed on the London Stock Exchange and is heavily regulated.
By trading Crypto CFDs – like Bitcoin, Ethereum, and more – on Plus500's platform, you can speculate on their price movements without actually owning them.
Pros:
CFD provider that charges only the spread – no commissions
Numerous financial instruments available in a variety of markets
CFDs on stocks can be traded at a leverage of 1:5
Opening an account and depositing funds takes just minutes
Cons:
Crypto CFDs only
It is better suited to experienced traders
CFD Service. Your capital is at risk.
4. IG – Trusted New Zealand Crypto CFDs Platform With Competitive-Fees
Crypto CFDs are offered by IG, one of the most established brokerage platforms in the online market. It not only offers shares and stock CFDs, but it also provides spread betting and Crypto CFDs.
It drops to just £3 (about NZD 5.50) if you buy and sell more than three times per month. As a result, IG is extremely competitive in the fee department, especially when you consider its tight spreads. A total of 10,000 companies are listed on IG's list of tradable markets.
IG Markets dominate the trading world. It is listed as one of the oldest platforms since it was originally launched in 1974. Then, there were no crypto trading options available. London is the company's headquarters.
Platforms like this focus on derivatives trading, or more specifically, contracts for difference. Derivatives are instruments whose value is derived from a different asset (normally stocks, bonds, commodities, etc.). Similarly, cryptocurrencies are used to determine the value of derivatives.
Pros:
Long-standing reputation as a trusted broker
Service that offers good value for money
Short-selling and leverage are also available
CFDs and spread betting
Several international markets are available
The research department is of great quality
Cons:
Trading CFDs only, not cryptocurrencies
5. Crypto.com – Buy and Margin Trade Bitcoin in NZ
You may also want to consider purchasing Bitcoins through Crypto.com if you're looking for a platform. The crypto-trading platform Crypto.com has continued its successful growth this year after being one of the fastest-growing in 2017. On the Crypto.com platform, users can trade over 250 coins with deposits in NZD.
If you have experience with scalping and day trading, you can leverage trade perpetual futures pairs and spot trade.
Traders can choose to make their purchases via the exchange or the mobile app when dealing with Crypto.com. The fee for buying or selling a cryptocurrency is 0.4% if you choose the former. In addition, if you pay with Crypto.com's native token, CRO, you can reduce this fee by 10%.
Investing in Bitcoin through Crypto.com's app, on the other hand, will enable you to carry out the transaction instantly using your credit card or debit card. A debit card purchase will be more expensive than an exchange since a 2.99% fee will be charged. However, the fee for new users of Crypto.com will be waived for 30 days.
Additionally, you can use your Crypto.com account to deposit FIAT currency (such as NZD) and exchange it for BTC. Crypto.com also offers other supplementary services like staking, an NFT market, and investing. You can also earn regular cashback rewards using the platform's crypto credit card.
Pros:
Crypto exchange with rapid growth
For the first 30 days, there are no card fees
Free FIAT deposits
It supports more than 250 cryptos
Cons:
Credit/debit card purchases are expensive
6. Binance – Huge BTC Trading Platform with Vast Asset Selection
Since Binance has a large selection of assets and low trading fees, many investors believe it's the best place to buy Bitcoin in New Zealand. CoinMarketCap reports that Binance is the world's largest crypto exchange and that its daily trading volume is more than $20 billion.
There are over 500 crypto assets on Binance, including altcoins, DeFi tokens, and crypto-to-crypto pairs. Buying Bitcoin in NZ is simple with Binance, as the exchange charges a flat 0.1% fee for opening and closing positions. Fees can be paid in BNB (Binance Coin) for a 25% discount.
Currently, Binance does not accept NZD deposits – so you'll have to deposit another currency or fund your account with Crypto. In addition, you can purchase Bitcoin with a credit card instantly, eliminating the need to make a deposit. However, the transaction will cost you 3%.
With Binance's trading platform, experienced traders have a variety of options. In addition to order book data and market depth, this option provides information that many other platforms do not. As a last resort, Binance provides several additional trading services, such as staking, crypto savings accounts, and a dedicated NFT market.
Pros:
Hundreds of crypto assets to trade
Low trading fees
Traders of all levels can use these platforms
An extensive range of additional services
Cons:
Deposits in NZD are not supported
7. Coinbase – Best Site to Buy Bitcoin in NZ for Beginners
Over 100 cryptocurrencies can be traded through Coinbase, one of the most popular crypto exchanges around the world. There are over 98 million users on the platform worldwide, and it offers a user-friendly way for beginners to buy Bitcoin. In addition, Coinbase Pro – the platform's native exchange – is where you can purchase BTC through the app.
When opening or closing a position on the exchange, the taker or maker fee is 0.60% or 0.40%. Alternatively, if you purchase through the app, you'll be able to purchase Bitcoin instantly with your debit card. Using Coinbase, however, can cost you a lot as it charges a 3.99% transaction fee.
As well as volume-based fees, Coinbase charges a fee for transactions over $50 worth $2.99 (4.60 NZD). However, Coinbase makes trading easy because its mobile app is well-designed and has an easy-to-use interface without complicated jargon.
Even though Coinbase isn't regulated in New Zealand, it stores 98% of its customers' holdings in cold storage, making it extremely difficult for cyber attackers to access those funds. The Coinbase app lets you store your BTC and browse the decentralized web while storing NFTs in its self-custody crypto wallet.
Pros:
An easy-to-use trading interface
There are over 100 cryptos to trade
Free wallet app
Cold storage accounts for 98% of holdings
Cons:
There are high trading fees
8. EasyCrypto – Crypto Exchange to Buy Crypto with NZD
Easy Crypto acts as a gateway to let traders buy and sell cryptocurrencies, which means it acts as a crypto broker. Over 44 cryptocurrencies are purchased using AUD, NZD, and ZAR fiat currencies on this regulated exchange. An elegant yet simple interface makes the platform easy to use. Banking users can transfer cryptocurrencies directly to the cryptocurrency exchange account, a cold-storage account, or their existing ties.
In New Zealand, Easy Crypto appears to be one of the safest platforms for buying cryptocurrency securely and smoothly. However, to ensure the safety and security of their users' funds, the cryptocurrency exchange has taken many precautionary measures:
Auto-investment is a feature on Easy Crypto that allows users to schedule regular purchases of selected cryptocurrencies. All traders can select the coins and the ratio at which they wish to buy them. As an example, they can decide to purchase 50% Ethereum and 50% Bitcoin for every deposit they make. As a result, the system automatically purchases those crypto coins every time the trader deposits funds on the exchange. Investing in digital currencies this way allows investors to dollar cost average effectively.
Pros:
Insurance that is 100% guaranteed
159 cryptocurrencies are supported
Deposits made the same day
Using Crypto Swaps, you can easily trade altcoins
Register with AUSTRAC
South Africa, Australia, and New Zealand
Exchanging non-custodial assets
Cons:
Fees that are higher than the industry average
Tickets are the only method of customer support
The mobile app offers limited features
Tutorial- How To Buy Crypto With eToro
Here is a step-by-step guide on investing in Crypto on eToro, our recommended crypto trading platform, if you already have a lot of convictions in the crypto sphere and know which cryptocurrencies to invest in.
Download the Mobile App or Open the Desktop Website
eToro is easy to use with a quick sign-up process and an intuitive interface. The process of creating an account and learning more about smart investments will take you just 3 minutes.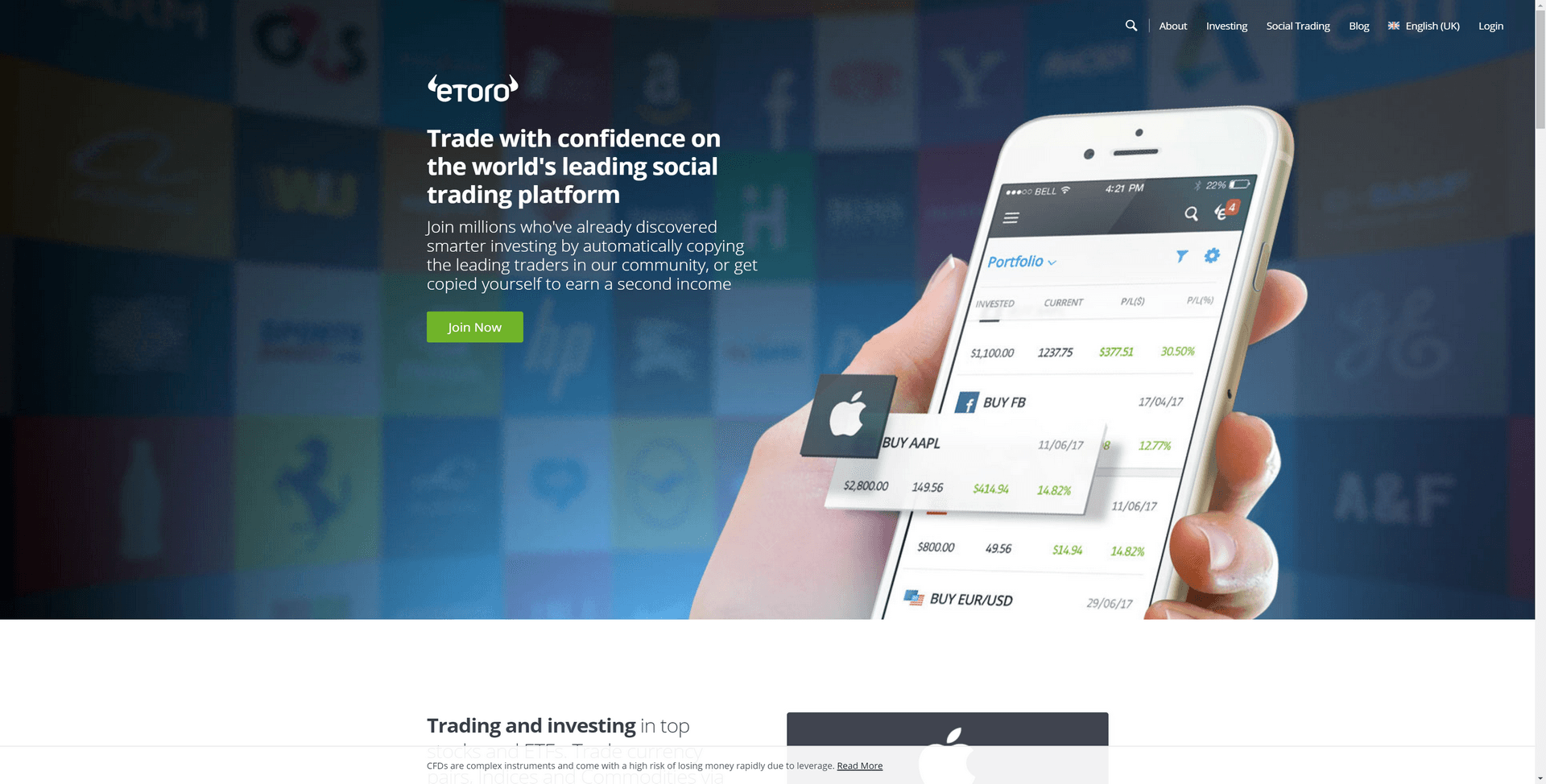 This cutting-edge trading app is the right choice if you want the most efficient trading experience.
Create an eToro Aaccount
By following the steps below. You can find 'Join Now' in the middle of the platform's website. Next, you can apply by entering your desired email and password. The registration process can also be started by linking an existing Facebook, Google, or Apple account.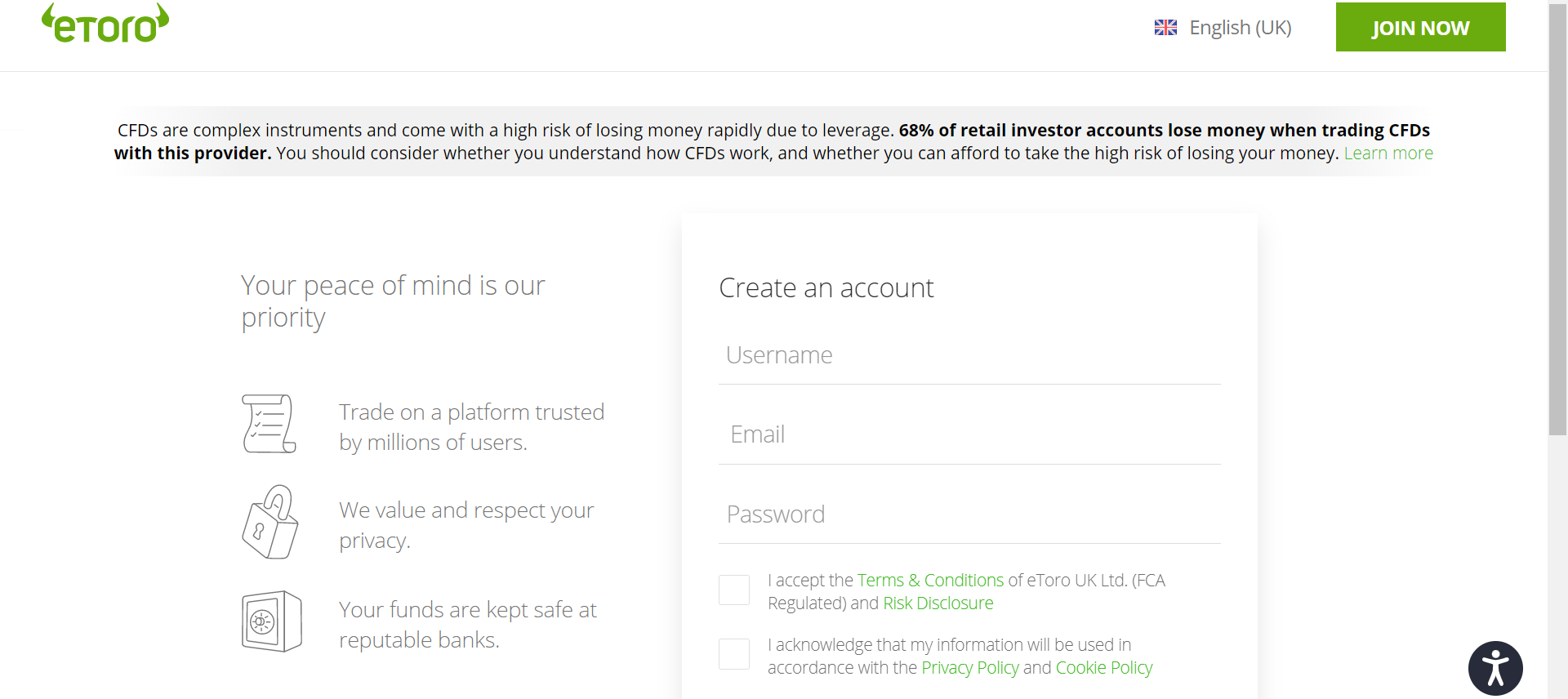 Fund Your Account
You can now deposit funds into your account after it has been verified. Among eToro's deposit options are wire transfer, bank cards (Visa and MasterCard), and a variety of third-party channels like Skrill, Neteller, AstroPay, and QIWI.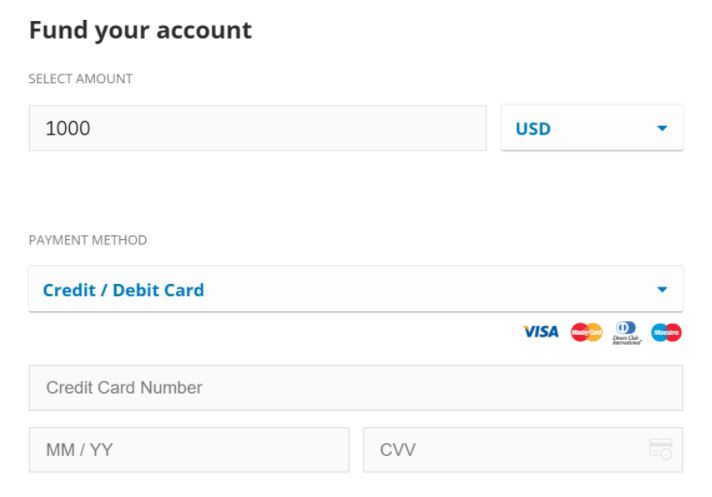 Choose the Currency That You Would Like to Buy
Now that you have funded your account! Search for the cryptocurrency you want on the eToro dashboard. eToro lets you buy or sell cryptocurrency.
75% of retail investor accounts lose money when trading CFDs with this provider.
Crypto Trading Strategies
How is trading different from gambling? A good strategy makes the difference. Based on well-laid plans and research, day traders devise winning strategies. The day trading crypto strategies you use will depend on your competencies and the nature of the market.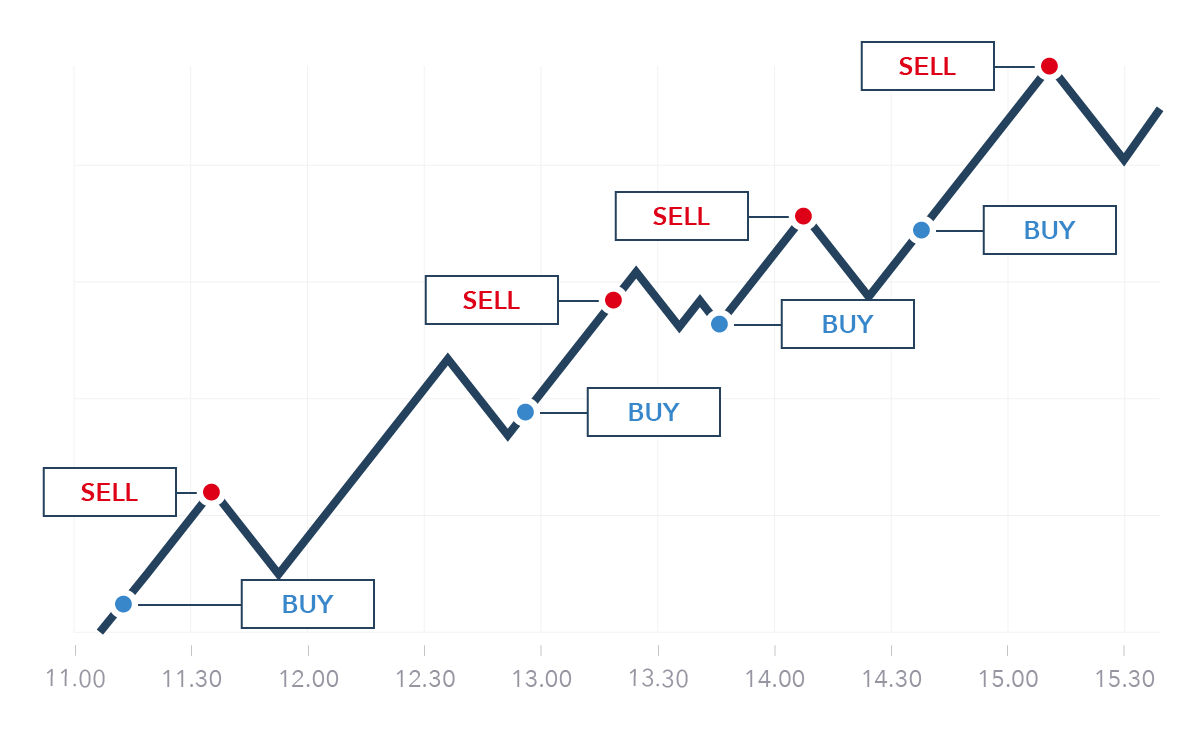 Technical Analysis
Based on market data, the technical analysis predicts future price movements for a security currency. Based on historical trading data, technical analysts can apply their statistical trading strategy to any financial market to evaluate future revenue or losses in Crypto. By analyzing technicals, day traders can discover opportunities to trade and make profits, allowing them to identify short-term trends and patterns crucial to day trading.
Using technical analysis indicators can help you maximize your chances of profiting. For example, the Moving Average Convergence Divergence (MACD) is the best indicator for day trading crypto.
Social Trading
Investing in cryptocurrency socially is a method for learning from experts and copying their strategies.
Unlike regular cryptocurrency trading, this is quite different. Trading various types of cryptocurrencies traditionally requires an account on a crypto exchange. Trading the crypto market relies on both financial news and technical indicators.
Trading financial instruments this way is common, but it's risky. In the long run, most traders lose money because they cannot adapt to the mindset required to bag consistent profits.
Hedge funds are one way to avoid risk if you have a lot of money available. However, doing so rarely produces the steady monthly returns that most traders desire.
Social trading is one solution to these problems.
With social trading, you can take advantage of high returns associated with intraday and day trading and replicate the trades of experienced traders. Users can invest as little as $1 on crypto trading platforms, so there is no need to be a millionaire to participate. Anyone can participate – in a transparent environment without many restrictions.
Robo-Advisors
With crypto robot advisory software, you can build sophisticated investment algorithms or even offer pre-defined cryptocurrency portfolios using the strongest algorithmic engine on the market. In addition, AI provides advisors with unique insights about their clients, thereby decreasing churn and increasing engagement.
Signals and Algorithmic Data
Technical and fundamental analyses are used to generate the best crypto trading signals. It is also possible to generate signals with trading indicators, but they are more professional. Since you can use dozens of indicators to generate these signals, the trick is also deciding which are the most appropriate for your situation.
Experience would be necessary. Once again, the best crypto signals are generated by combining automated and manual trading methods. Crypto signals paid for use technical charting, fundamental analysis, and social media analysis (mainly and efficiently) to collect information.
Chart a trend:
You can generate a price pattern over a selected period using a crypto charting platform like TradeView. Using these platforms, you select the indicator and time frame on a given pair, for example, bitcoin/dollar, and the chart is generated automatically.
Decipher a price pattern:
By analyzing the trend lines of an indicator, a pattern can be derived from a chart generated based on that indicator. Crypto buy and sell signals can be derived from knowing the price action points. Here, knowledge and experience are crucial. On a chart, you will see supports/resistances, big moves, consecutive candles, drive, butterflies, triangles and heads, falling/rising wedges, falling/rising bottoms and tops, rectangles, bullish pennants, Gartley patterns, ABCD patterns, and 3 point extensions.
Predict the price action:
A pattern tends to predict prices within it unless it predicts more than one price direction, such as the downside or the upside. Then, based on the analysis, a trading signal is generated that predicts, in layman's terms, the price at which the trend is most likely to proceed as decoded by the charting and indicator knowledge.
Apply the price action:
For automated Crypto or asset trading, crypto signals are usually generated and re-fed into auto-trading bots. However, manual calculations are time-consuming and limited because such analyses would not capture as much varied and relevant market information as available through efficient bots that gather data from multiple sources in seconds.
How To Buy Crypto NZ- Conclusion
As a result, buying cryptocurrency in New Zealand is easier than ever before. You will have access to many cryptocurrencies once you have opened an NZ crypto account and deposited funds via debit/credit card or bank account. However, it would help if you still did some research on the broker you signed up with and the types of Crypto you decide to purchase. In addition, you should always understand the risks associated with investing in Crypto – past performances are never indicative of future ones.
Do you want to get started now? Take a look at eToro. You can instantly deposit funds into an account using a debit/credit card from New Zealand. You can then buy/sell crypto easily!
eToro – Buy Crypto From a Trusted Platform


75% of retail investor accounts lose money when trading CFDs with this provider.
FAQs
How to buy cryptocurrency in NZ?
You can buy Crypto instantly with all the platforms reviewed here, either through a web-based portal or a mobile app. In addition, traders in New Zealand can use a credit/debit card to invest in Crypto or FIAT currency, making investing easier.
How to buy Crypto with a credit card NZ?
You can buy Bitcoin, Ethereum, stablecoins, or other cryptocurrencies with a credit card. However, your credit card company may block your purchase, or the exchange that sells the cryptocurrency may block it.
Where to sell Crypto in New Zealand?
Exchanges and brokers are often the quickest, easiest, and safest ways to sell cryptocurrencies. For example, eToro makes it easy to sell cryptocurrencies.
What NZ crypto exchange has the lowest fees?
You can trade cryptocurrencies at eToro for low fees.