How To Buy Dogecoin New Zealand 2023– Beginner's Guide
With thousands of coins available in the crypto market, selecting the ideal token for your portfolio can be challenging. If you're a beginner investor, the myriad of tokens, their fundamentals, and the prices are bound to be a little confusing. This can be intimidating, especially if you decide to move beyond the conventional big names like Ethereum (ETH) and Bitcoin (BTC).
Meanwhile, DOGE (Dogecoin) has gained beginner investors' attention over the last few years. Thanks to it's rally in 2021, DOGE has successfully made it to the 8th spot of the top 10 cryptos by market capitalisation. However, while many investors wanted to capitalize on the price surge, not everybody knew how to buy Dogecoin in NZ. So, to ensure you don't miss out on future price increases, here's how to buy dogecoin in New Zealand 2023. 
How To Buy Dogecoin in New Zealand 2023 – Step by Step
The hype around DOGE has been unreal. Everybody wants to be a part of the bullish trend. So if you're eager to buy Dogecoin and kickstart your investment journey, here's a summary of the process with eToro.
Step 1: Sign Up For eToro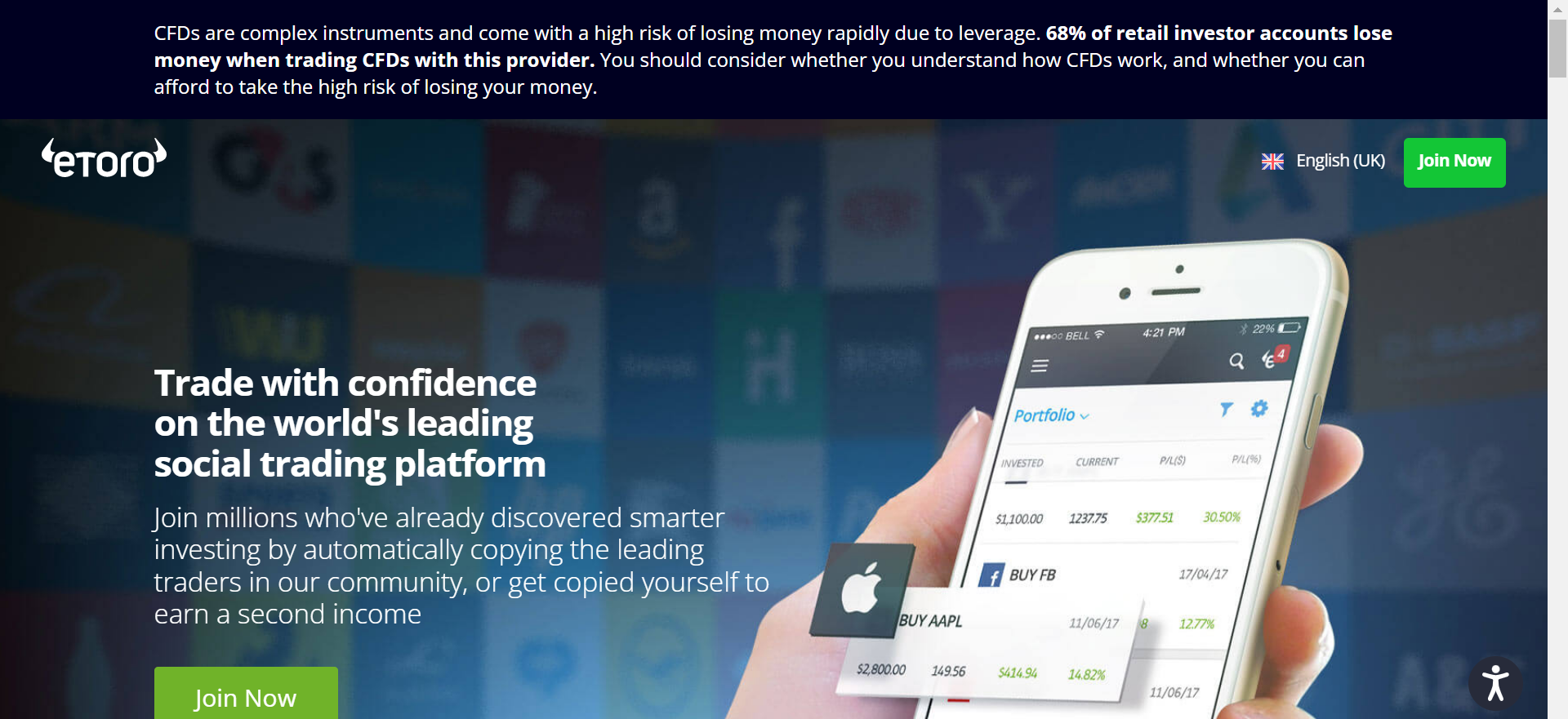 To invest in Dogecoin, you must first open an eToro brokerage account. Start by entering the required contact information first, followed by a strong password and username. Once you've done that, the final step is to validate your mobile phone number and email address.
Remember, you must first validate your account to complete the purchase process. To do this, you must upload a photo of your driver's license or your passport. It only takes a minute to confirm your details. 
Step 2: Deposit funds
In the second step, you must deposit your funds into the eToro account. There are a number of deposit options available like wire transfer, debit, credit card, or crypto wallet options. 
Step 3: Search For Dogecoin
The next step is to search for Dogecoin (DOGE). Type the token's name into the search field to get started. Once done, click on 'Trade' once the token appears in the search results. 
Step 4: Execute the order
Once you've decided on the sum of money you're willing to invest in Dogecoin, proceed by placing the amount in the 'Amount' box. To let eToro know you want to purchase DOGE, click the "Open Trade" button. Once done, you can proceed by adding the tokens to your eToro wallet. 
Considering the complexities involved in the process, some confusion might occur while following the steps above. Therefore, to help you better, we've listed the steps on 'how to buy Dogecoin' in more depth in the following section. 
Cryptoassets are highly volatile and unregulated. No consumer protection. Tax on profits may apply.
How To Buy Dogecoin UK 2023 – More Detail 
Step 1: Sign up to eToro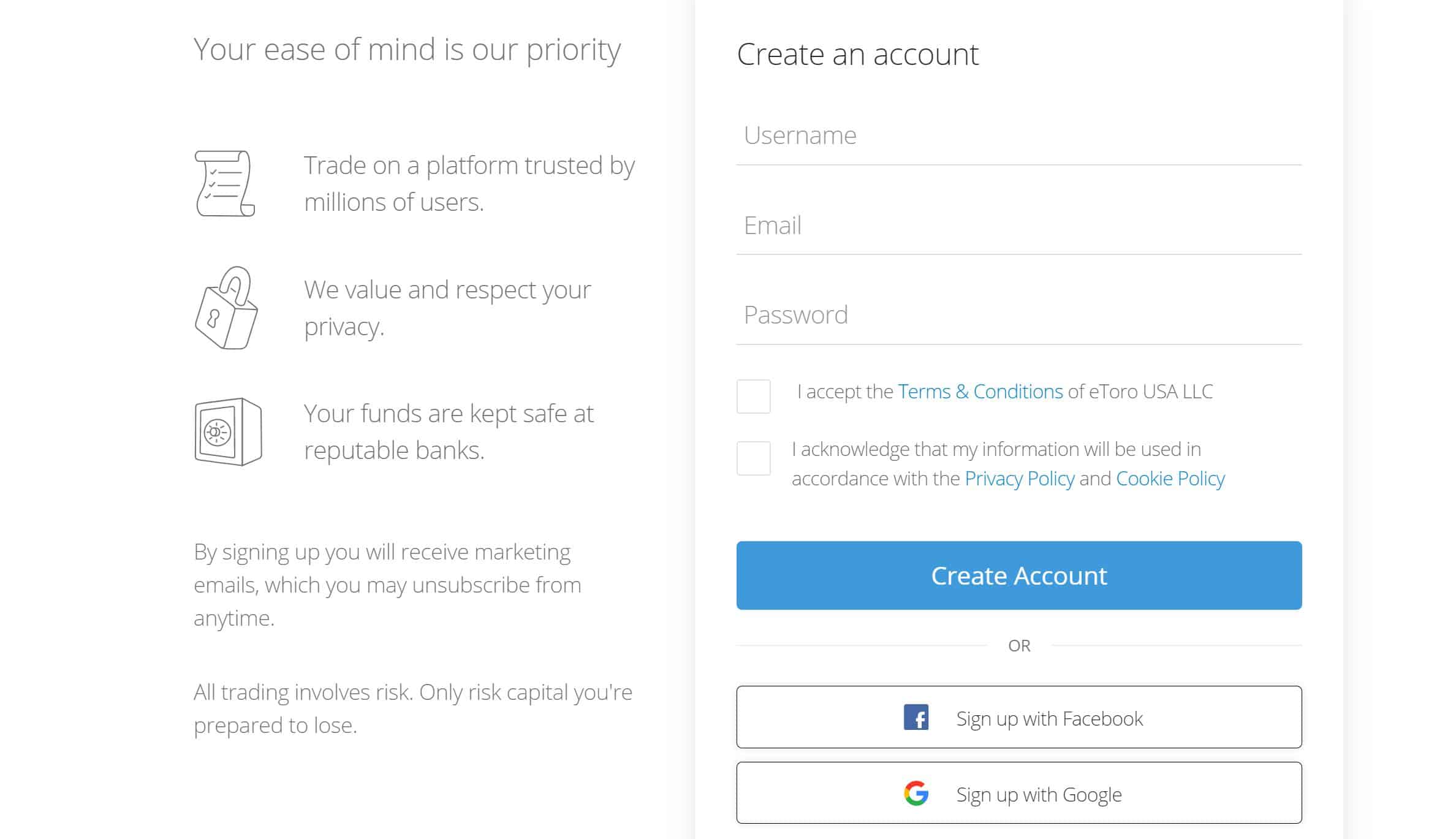 As stated above, the first step is to sign up to our recommended broker, eToro.
Why do we like eToro?
eToro is among the most reputable crypto exchanges on the market. We like eToro because the broker has one of the best UI and UX to support trading. As a result, investors can get started with at least $10 per trade. Moreover, the platform has a myriad of features, allowing users to get maximum investment returns. Furthermore, eToro is regulated by the Financial Conduct Authority in the UK which means that it must adhere to strict security policy.
eToro fees explained
The fee structure is one of the primary factors influencing purchase decisions in crypto trading. Thanks to the transparent and affordable fee structure, you don't have to look further than eToro when thinking about where to buy Dogecoin.
Here's an overview of the different fees associated with the exchange:
| | |
| --- | --- |
| Fees Type | Cost |
| Account Opening | Free |
| Management Fees | 0 |
| Commission On Stocks | 0% |
| Spread | 1% of the market price |
| Maintenance Fees | Free |
Step 2: Verify your eToro account
Account verification is the fastest step in the procedure. Once you've created your account, eToro sends you a confirmation email. Upon clicking the link, you'll be a registered user. However, that's not all! 
Following this, the platform requires you to verify your identity. Next, you can send a copy of your driving license or passport to the verification team. Once done, your account will be trade-ready in a matter of minutes.
Step 3: Deposit funds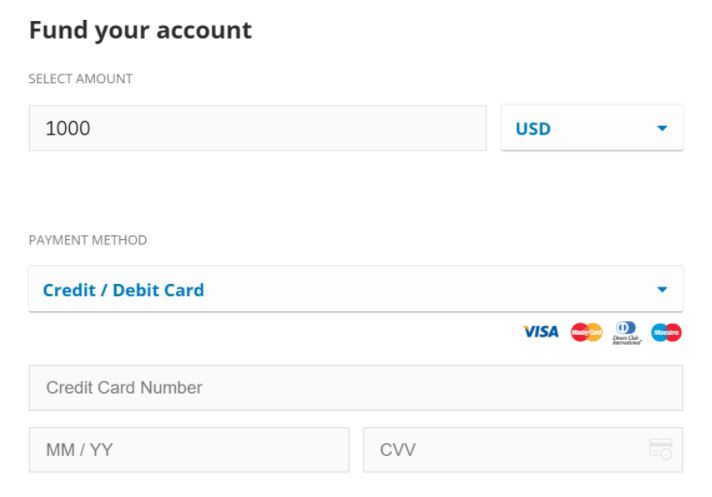 After you have verified your account, you'll need to deposit funds. Interestingly, eToro brings you a variety of payment options to consider.Choose a payment method
The next step is to deposit your fiat (NZD) money into your verified eToro account. Users can choose between multiple payment methods to fund their eToro account. Since the platform charges no fees, the process is rather straightforward. 
All you need to do is input your debit or credit card details. Other options to fund the account include Paypal and Neteller, ACH, and wire transfers. You could get started with a minimum of $10 investment. 
Decide how much you want to invest
Once you're settled with the payment method, decide how much you want to invest in DOGE. Remember, the platform allows you to get started with funds as low as $20 and the minimum trade amount is just $10. 
Step 4: Search for Dogecoin
The fourth step involves looking for Dogecoin in eToro's crypto market. After having the desired sum in your account, search for Dogecoin by inputting the DOGE into the search bar.
You may also be interested in looking at ready-made crypto portfolios. These are types of crypto investment that contain a number of tokens. eToro's portfolios are made by experts and are a great way to diversify your crypto investments.
Step 5: Execute your order
After you've found the token, move to the 'amount' section that reads 'Buy DOGE.' Put the amount you want to invest in the token, followed by the 'purchase' button. 
Following the steps mentioned above, you will have DOGE tokens in your account in no time. However, being a beginner investor, you must be wise with your purchase. Therefore, consider developing a solid investment strategy. 
Create a risk management strategy
Risk management is one of the primary aspects of crypto investments. Considering the volatility of the market, it is always a smart set stop losses so that you can reduce potential loss of capital if the trade takes a downturn. eToro lets you set a stop loss when executing the order. 
Pro Tip: It is a good idea to create a balanced portfolio. Therefore, the next time you add a crypto project, try weighing the fundamentals and price movements of the token. Try to invest in a variety of projects that have different utility and fundamentals, this will reduce the chances of losing all your capital in one go. 
Move DogeCoin to a crypto wallet
The last step is to secure your DOGE tokens into a crypto wallet. While eToro provides its users with digital wallets and secures their investments via investment policies, you could move your token into a decentralized wallet for extra security. To do this, simply send the tokens from the eToro wallet to your decentralized wallet address. 
Cryptoassets are highly volatile and unregulated. No consumer protection. Tax on profits may apply.
What Is Dogecoin?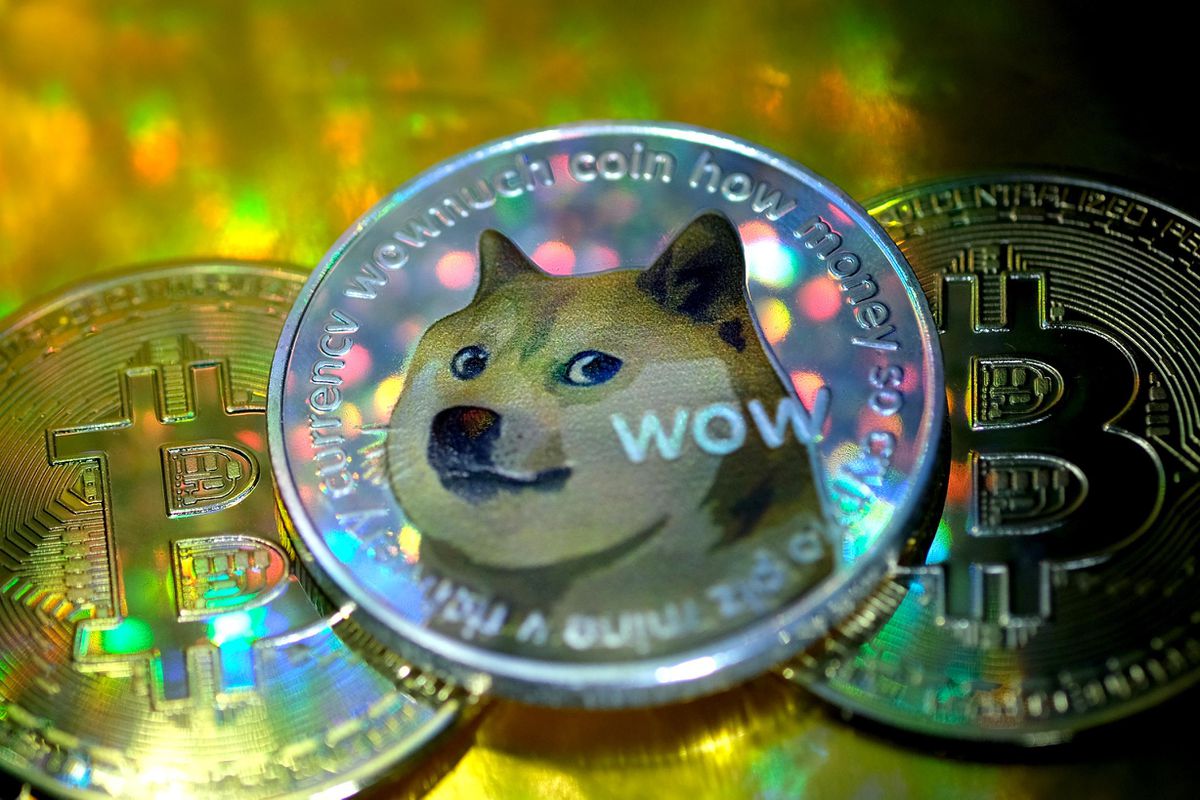 Dogecoin is one of the many crypto tokens available in the market today. This open-source, peer-to-peer token was the first 'meme coin' to gain prominence in the mainstream market. 
Today, the coin is linked to the world's richest man, Elon Musk, and the famous Shiba Inu meme. However, DOGE hasn't always been this popular. 
Dogecoin was founded in 2013, when cryptocurrencies started emerging on the internet. Its founder, Jackson Palmer, Sydney, Australia's Adobe product manager, came up with the token to take a dig at the then-trending concept of digital coins. However, little did he know that the tongue-in-cheek joke would later make history. 
Palmer introduced Dogecoin to the market via Twitter. To his surprise, the founder started to get positive feedback on his parody coin. Billy Markus, a developer at IBM, supported the idea behind DOGE and later contacted Palmer to develop software to support the coin. 
The series of events resulted in Dogecoin being a success at the time of its launch in December 2013. The token enjoyed investors' attention, primarily for its unique, laid-back concept. Most notably, recent events have gained the DOGE project a massive following on Reddit. 
Apart from the token being a parody or a meme for mainstream crypto, Dogecoin is similar to other tokens. It operates over the PoW consensus and can be mined via the proof-of-work algorithm. Miners receive DOGE as a reward for solving blocks. 
Besides, Dogecoin also uses Blockchain technology for its streamlined operations. However, unlike prominent tokens like BTC (Bitcoin), DOGE has no upper cap or limit on how much it can be mined. This aspect of the token makes it accessible and inflationary on a broader scale. 
Overall, Dogecoin has become a viral sensation (especially after its huge boom in 2021). This meme coin has made its way to the #8 crypto by market cap, making it a wishlist coin for many investors. 
However, you might need to know a few fundamentals about the token if you're looking add DOGE to your portfolio. Therefore, continue reading as we explore why Dogecoin could be a good investment in New Zealand in 2023 in the following section.
Why Might Dogecoin Be a Good Investment in the New Zealand In 2023?
Dogecoin boomed out of nowhere. While the token has been present in the market since 2013, it wasn't until 2021 that DOGE faced popularity after Elon Musk took an interest in it.
Not only did the year result in DOGE shooting to its all-time high of $0.73, but its developers also returned to the long-abandoned project. Since then, the token has consistently performed in the markets, and its latest updates make Dogecoin a smart investment today. 
Therefore, if you're interested in buying Dogecoin but still unsure despite the 'Musk hype,' here are a few reasons why Dogecoin could be a good investment in 2023.
Dogecoin follows a decentralised approach
If there's any lesson from the recent collapse of some of the highly rated crypto tokens, it is that decentralisation is valuable. In fact, this is what makes market makers like BTC and ETH so valuable, despite their high fees and comparatively slower speeds.
Similarly, DOGE is one of the leading decentralised tokens in the market today. It leverages a PoW algorithm, allowing everyone to mine DOGE without spending much on extensive GPU-ridden mining equipment. This way, the project adds to the number of people supporting the DOGE network globally.
With more investors getting an idea of the power of the 'decentralisation' factor, there will be a sharp increase in investors. Therefore, once you buy Dogecoin and hold it, you could enjoy significant returns from the token in the foreseeable future. 
It is one of the primary reasons why despite being a meme coin, DOGE is among the most promising investments for long-term growth.
Cryptoassets are highly volatile and unregulated. No consumer protection. Tax on profits may apply.
Dogecoin enjoys a unique position in the crypto market
The positioning of a token is one of the deciding factors in any market, and crypto is no different. For instance, Bitcoin is one of the industry's most celebrated and successful tokens, primarily because it is positioned as the first crypto token and is also referred to as potential digital gold.
Similarly, DOGE has also developed a unique position for itself in the market. The token is celebrated as the first meme token, developing a community of thousands of Doge believers. Adding to it, DOGE also enjoys the 'benchmark' factor as most of the meme coins today are based around the idea of Dogecoin.
This unique position in the market provides DOGE with an edge over other tokens in its competition. Furthermore, this results in a better performance from the token, as once the market picks up momentum, DOGE could lead the way and set a benchmark for other meme coins.
This is another reason you could consider buying Dogecoin if you want to invest in meme coins in 2023.
Dogecoin is a go-to option for everyday transactions
Adoption is the key to growth for any token that plans to dominate the market in the long term. Unfortunately, since meme coins generally follow the hype culture, it's normal for investors to witness a sudden boom and later lose the invested value of the portfolio. 
This is where the usability factor comes into play as one of the prominent factors to consider, once the hype for the token diminishes.
In general, tokens cannot be widely adapted if the transactions are not fast enough. The average speed of transactions is another added factor that determines the success of a crypto project. Interestingly, this is where Dogecoin beats the likes of both Bitcoin and Ethereum. 
Dogecoin transacts much faster and gets confirmed in a matter of minutes. In comparison, the gold and silver of the industry take up to five minutes for confirmation. On top of that, DOGE's decentralised approach ensures complete censorship of the transactions, making DOGE a smart crypto for transactions. 
So far, Dogecoin has been accepted as legal tender by more than 20 major corporations. These companies include the Dallas Mavericks, AMC Theatres, Newegg, and Tesla.
This is a positive indicator of the possible future of Dogecoin's future. So if you're thinking of buying Dogecoin, now would be a great time to purchase and stay invested. 
Dogecoin has a growing community
A supportive community is any crypto token's most significant selling point. The better a project's community, the greater its chances are of increasing in numbers and value. Interestingly, its strong community has been one of Dogecoin's main supporters since its inception in 2013. 
Over time, the network has grown and attracted some of the world's biggest influencers. Currently, with a strength of millions, it includes members like Mark Cuban and Elon Musk, who have accepted DOGE as a legal tender in their businesses. 
Consequently, they draw in more investors each time these influential business people bring up Dogecoin. This would someday help the token rank among the best-performing cryptocurrencies.
Take into account, for instance, how the rise in companies accepting Dogecoin has grown after Elon Musk, along with other community members, started pushing DOGE. This is a prime example of how much the community influences Dogecoin's movements.
Besides, the bigger the community gets, the higher the chances of new crypto investors taking up DOGE as their first investment. Now that's a confidence boost for anyone who doubts the future of the token. 
Dogecoin is present on multiple exchanges
While meme coins are a trend, there's no chance you'll find them in all major exchanges. Given the hype culture surrounding these tokens, many exchanges avoid listing them. 
However, that's not the case with Dogecoin. Instead, it is one of those few meme coins that can be found listed on almost all the top exchanges around the globe. Dogecoin is even listed on eToro, one of the prominent crypto platforms for beginner and advanced investors and traders alike. 
Besides, the impact of multiple listings across prominent exchanges adds to DOGE's selling factor in many ways. It reduces your chances of getting duped by scammers trying to lure you into purchasing Dogecoin from them. 
At the same time, it provides liquidity and accessibility to new investors, even in peak bull runs. It also serves as a factor that could increase DOGE's price in the future. Since more exchanges are showing interest in listing the token, chances are that the investments by newbie investors will pump the token to a new high in the next bull run. 
Dogecoin has ensured longevity over the years
Do you intend to invest in crypto markets for the long term? If yes, then you must consider investing in tokens that go beyond the hype trend. When investing in the long run, try looking for tokens with a significant market history. 
This is important because the crypto industry has witnessed many tokens come and go since its inception in 2009. Most token projects start with a bang (courtesy of paid PR) but fail to withstand bearish market conditions, often seizing to exist. 
However, that hasn't been the case with Dogecoins. Despite being a parody token with no practical use, the token has existed in the market since 2013. As a result, it is now the oldest and one of the leading meme coins to exist.
Adding to it, currencies like Dogecoin have shown a survival component, despite the recent fall of the crypto industry. If the token's history is studied briefly, it indicates endurance to exist for decades and increase its value.
All these factors are strong indicators that the token might experience tremendous growth in the future.
Dogecoin is infinitely scalable
Scalability is one of the biggest challenges for most crypto projects. Today, most projects revolve around the concept of 'deflationary asset' where the tokens are limited, and a part of their market capitalisation is burnt to increase their market value. 
This results in a delay in transactions since the networks are often congested due to low liquidity. This is where Dogecoin steps in to simplify the issue that could impact millions of people.
Thanks to the 'no upper cap' approach, Dogecoin has improved the transactions' pace, eliminating network breakdowns and slow confirmation speeds. However, its scalability puts DOGE on the map as one of the most potent tokens for widespread adoption.
Since long-term value growth and adoption are closely related, DOGE is one of the smartest crypto investments you can make today. 
Cryptoassets are highly volatile and unregulated. No consumer protection. Tax on profits may apply.
What Is The Cheapest Way To Buy Doge In New Zealand?
The fees related to crypto transactions can be daunting, especially if you are new in the industry. Today, almost every investor is looking for different ways to buy dogecoin for low cost in NZ. 
Interestingly, there is a way for buyers to invest in their favourite meme coin without paying anything too high. Continue reading as we explore the cheapest ways to buy DOGE in New Zealand.
Thanks to their popularity, today, you can purchase DOGE from a majority of crypto exchanges, most of which allow you to get started with as little as a $10 investment, if not less. Besides, some platforms offer more than one way to buy Dogecoin. All you need to do is put your budget on the exchange and swap it for the meme coin.
Instant buy
This is the fastest and cheapest way to get Dogecoin, especially if it's your first time getting it.
Here, you can get started by clicking the 'buy now' banner under the purchase area of your selected crypto exchange. Once done, the straightforward UI of the exchange will guide you toward the exchange section, where you can input the quantity of Dogecoin or NZD you wish to spend.
If you're investing in DOGE using a debit or credit card as your preferred option, this is typically your only choice. But if you've pre-funded your account with a bank transfer, you could also opt for the instant purchase feature. 
Investor's Note: When using this purchase feature, you need to be ready to pay the markup on DOGE's market price. It can be thought of as an extra cost that adds to the total cost of your investments. 
Spot market
Another option for the cheapest way to buy Dogecoin in NZ is the spot market. This is one marketplace where different buyers and sellers come together and bid for DOGE in the open market. 
This is one of the cheapest alternatives for purchasing DOGE, as traders sell their tokens at their own price. You'll find this segment under your exchanges 'Spot' or 'Trade' section.
Investor's Note: The spot market is filled with traders of different sizes and types. While you're at it, don't rush. Instead, try analysing the different rates traders offer before locking one of them. 
Market order 
Another option to purchase doge coins affordably is the 'Market order.' This option in your crypto exchange allows you to purchase tokens at the best possible price available in the market. This option can be considered as an instant buy order with comparatively lower transaction fees.
Investor's Note: Since market orders operate around the best possible prices, finding the best deal in real time can be challenging. So if you're in a hurry, try avoiding market orders. 
Limit order 
Limit orders are by far the most common and least expensive order type. Why? Because it allows you to purchase the DOGE tokens at the price you specify. 
Investor's Note: Limit orders can be a double-edged sword. While traders use this to capitalise on the price pumps, it can be a loss if the price dips further below your set limit. So instead, select the range of your purchase after extensive research. 
Cryptoassets are highly volatile and unregulated. No consumer protection. Tax on profits may apply.
How To Buy Dogecoin With PayPal?
Buying Dogecoin via PayPal involves several steps. Furthermore, you can buy DOGE with paypal through a number of brokerage varieties. 
Dogecoin Exchanges

Dogecoin Brokers

Dogecoin Derivatives such as CFDs

Dogecoin Apps

Dogecoin P2P Services
However if you're looking for a simple way to buy Dogecoin with PayPal, you only need to access a crypto exchange. Here's a detailed overview of the steps involved in purchasing Dogecoin via PayPal.
Step 1: Choose a platform
The first step in the process is to choose a crypto exchange. Initially, you should research the top exchanges and compare the different platforms. Once done, make an account, fill out the registration form with your information, and provide a picture ID to prove your identity.
eToro is an example of a regulated crypto exchange that offers DOGE.
Step 2: Fund your account with PayPal
Once your account has been validated, go to the deposit page and enter the amount you wish to deposit. The payment method must be set to PayPal. Your browser will lead you to PayPal, where you must enter your password. To transfer your dollars, click the "Deposit" option after that.
Step 3: Purchase Dogecoin
Search for Dogecoin on the platform. If you want to purchase DOGE only when it reaches a specific price, you may use a limit order; if you buy it now at the current price, you can use a market order. Then, enter the desired purchase amount and press the 'Trade' or 'Buy' button.
Cryptoassets are highly volatile and unregulated. No consumer protection. Tax on profits may apply.
What Is The Current Price of Dogecoin?
The current price of a Dogecoin is $0.1162, and there are 132,670,764,300 DOGE in circulation. As a result, the token has declined by over one-fourth of its all-time high price of $0.73. 
However, the latest decline in the price of the token has nothing to do with its future. On the contrary, DOGE has been a strong contender in the market, and its latest update presents hope for a better tomorrow for its investors. 
Analysts suggest that the token has excellent potential and might reach $5 in the future (expected in 2030). Therefore, if DOGE's future looks uncertain, it could be wise to hold it long-term. 
Note: The crypto market is known for its volatility. While the predicted value can be appealing, the final price will depend on the market. So invest wisely and only after you've researched the past price of the token. All the best! 
Tamadoge – The Best Alternative To Dogecoin With Great Utility and Deflationary Design!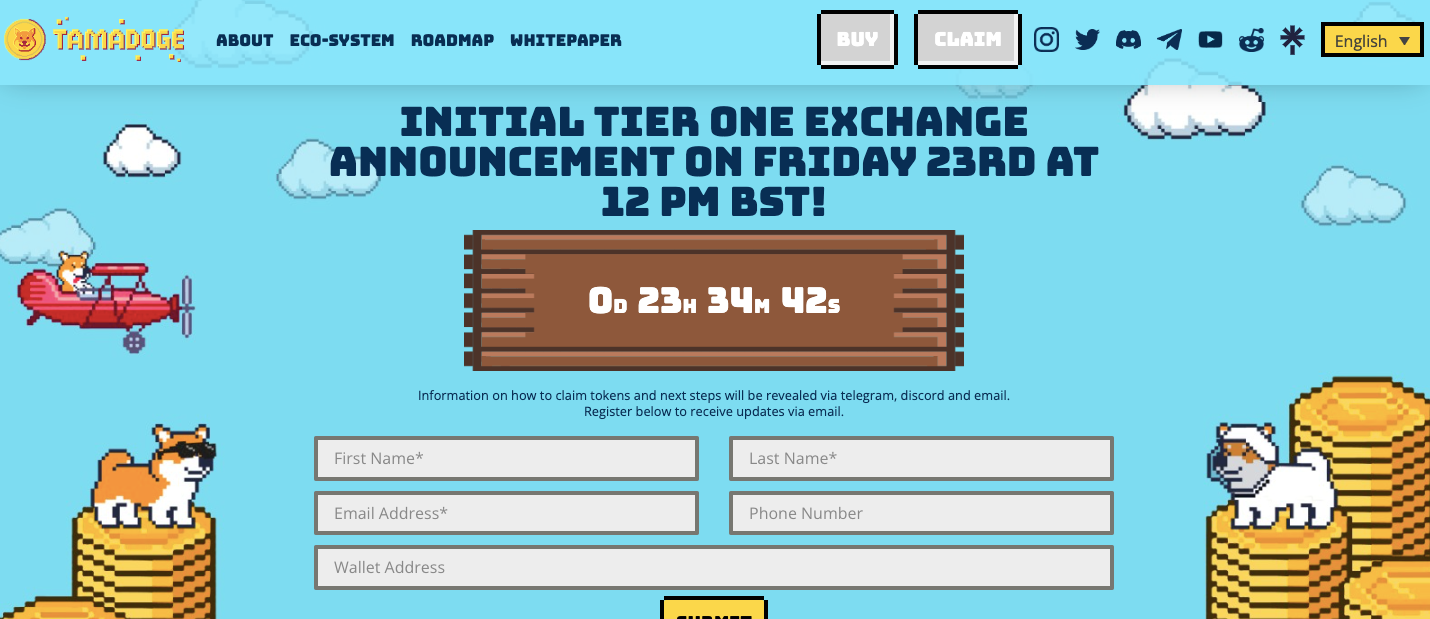 While DOGE has been a great token, the fact that Elon Musk backs it divides the investors into two. There are believers and non-believers in the token's fundamentals and its backing by the world's richest man. 
The sole reason is that Elon has a bad image for pumping and dumping crypto tokens (he was blamed for manipulating BTC's price in 2020–21). Adding to it, not many investors can resonate with the fundamentals of the DOGE token, leaving them in search of another reliable meme token. 
Interestingly, this is where Tamadoge (TAMA) fills the shoes of DOGE. Tamadoge is a P2E (play-to-earn) game based on the Tamaverse. This platform allows players to train, develop, care for, breed, and engage in combat with their NFT-based pets. 
Launched in July 2022, this deflationary token and a meme coin are already being termed the DOGE killer. Continue reading as we explore the different aspects of the token and what makes it unique:
Most crypto tokens on the market today are backed by a single utility. However, that's not the case with TAMA. Because of its extensive and significant contributions to the crypto ecosystem and the Tamaverse, the token is recognised as a multi-utility token.
The TAMA token has been a success among investors since its pre-sale. Besides, the token is all set to be listed on some prominent exchanges centralised and decentralised exchanges like Uniswap and LBank. This adds to the token's future growth as these exchanges help pump the trading volume of their listed coins by making them available to the mainstream audience.
The Tamadoge project has great plans for its future. Tamadoge will investigate collaborations with other well-established metaverse initiatives by 2023, according to information and statistics from the whitepaper for the project. Additionally, much attention will be paid to CEX agreements to improve Tamadoge's performance on the Blockchain.
Deflationary models have played a significant role in increasing the price of a token over time. Something similar could be seen with the TAMA token. The project currently operates with a limited supply of 2 billion coins, making it one of the most in-demand projects in the market. 
Cryptoassets are highly volatile and unregulated. No consumer protection. Tax on profits may apply.
Recent Dogecoin News To Consider
Dogecoin has been one of the most promising meme coins in the market, courtesy of the world's richest man Elon Musk. After all, the token started gaining prominence only after the so-called 'Doge father' got involved in a series of tweets backing the token. Interestingly, this move was backed by Tesla accepting the token as legal tender. 
However, that's not all. With Elon's latest acquisition of Twitter, investors might finally witness DOGE's pump. Reportedly, the token's price has already doubled its value following Elon's acquisition. Therefore, if you're buying Dogecoin, now would be the best time to do it. 
How To Buy Dogecoin – Conclusion
This brings us to the end of our comprehensive guide on how to buy Dogecoin in NZ. Overall, the token has been a great performer mainly because the token has been around for a while, is backed by a loyal community, and its price has risen over time.
Having said that, as an investor, you must be able to resist the occasionally occurring price decreases. Dogecoin investment carries risks; therefore, if you want to succeed, you must be willing to accept price swings that may be uncomfortable to bear.
Now that you know the token, its past performance, and its supposed future, what are your plans for the DOGE investment?  
Cryptoassets are highly volatile and unregulated. No consumer protection. Tax on profits may apply.
FAQs
What is the best place to buy Dogecoin in NZ?
There are numerous crypto exchanges where you can purchase the DOGE token. However, if you want to buy Dogecoin in NZ in a hassle-free and cost-effective manner, we suggest signing up for an eToro account.
Will Dogecoin explode soon?
Dogecoin has been a strong contender over the past year. However, looking at its latest price movements, it's evident that the token will be a great return on your investment over the long term.
Is Dogecoin the best meme coin to buy right now?
Yes, especially after Musk acquired Twitter. The token has presented strong bullish movements, almost doubling its value in weeks. Therefore, now would be the best time to invest in DOGE.
Can you buy Dogecoin with a credit card in NZ?
Yes, platforms like eToro allow you to buy Dogecoin with a credit card. However, before you do that, ensure that you have an idea of the charges involved in the transaction.